"You Made Me Love You" recently was a FEATURED ALBUM OF THE WEEK
on "The Jonathan Schwartz Show" on WQXR/WNYC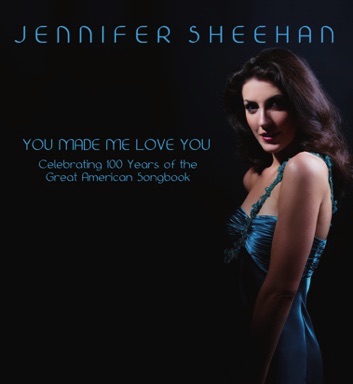 Sheehan's versatility and the pleasures of this disc can be highlighted by describing the disc's first two tracks: Her beautiful and gossamer interpretation of Jerome Kern and Hammerstein's "All the Things You Are" is followed by a rendition of Shelton Brooks' "Some of These Days," in which she channels her inner Sophie Tucker. Meanwhile, a medley of Rodgers and Hammerstein's "Some Enchanted Evening" (from South Pacific) and Adam Guettel's "Fable" (from Light in the Piazza) proves to be shrewdly conceived and expertly rendered."
-- Andy Propst, TheaterMania
As I listened to Jennifer Sheehan's "You Made Me Love You," I got the impression that her love was more directed to the American Songbook than any mere mortal being. It is rare that one singer has as much going for her as Jennifer displays on this new disc. Her classical training does not get in the way of subtlety and nuance-- perhaps it even supports these qualities as her pitch seems perfect and she never pushes her soprano. All this was evident from the opening, "All the Things You Are," to the finale, "Love is Here to Stay." On "In the Still of the Night," with a gently swaying Latin feel, she uses vocalese with the skill of a jazz singer. Her breath control and shapely phrasing ares especially evident all through "I'll Be Seeing you," one of the many songs where she includes the verse.
James Followell's pianism is unique and sensitive, his light touch serving the unusually creative, yet melodic arrangements. The violin of Antoine Silverman, the percussion of Dan Gross and the bass of Jered Egan add to the depth and polish of the band.
-- Melody Breyer-Grell, Cabaret Scenes
There is aural glory to relish."In the Still of the Night" is also worthy just because of the purity of the sound, the sumptuous accompaniment that makes it a ravishing rhapsody by skilled accompanists and a songstress who has the pipes. Longing back to the past or looking forward, Jennifer Sheehan has a glow and her real affection and respect for the material is evident, too. That's plenty to appreciate.
-- Rob Lester, Talkin Broadway
I'm sure glad I'm alive to hear this lovely young talent-- a wonderful singer. When you hear her new CD (a must!), you can understand why she recently won the Noël Coward Foundation Cabaret Award.
-- Dick Robinson, Host of internationally syndicated radio show "Dick Robinson's American Standards by the Sea," President of The Society for the Preservation of The Great American Songbook
The Great American Songbook is 100 years old, and Jennifer Sheehan has a new album that celebrates this musical milestone!
Passionate about classics from the Songbook's Golden Era, as well as more contemporary masterpieces, Sheehan sings the songs—and the praises—of America's finest lyricists and composers—from Berlin to Bucchino and Gershwin to Guettel.
The album includes gems by Jerome Kern, Cole Porter, Richard Rodgers, Oscar Hammerstein, Jule Styne, Betty Comden and Adolph Green, Stephen Sondheim, Henry Mancini, Alan and Marilyn Bergman, Susan Werner, Adam Guettel and more!
AVAILABLE NOW! To purchase and listen to sound clips: click here